counting the moon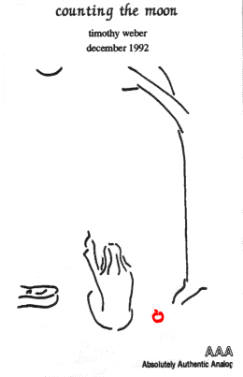 A double album, dancing between the material world and the inner experience.
The cassette is bookended by "invocation" and "conclusion," and two "interludes" straddle the side flip. Also, instead of having a "side one" and "side two," it has an "outside" and an "inside" (in that order).
Some highlights are " miso ," an a cappella song featuring heavy breathing, chest pounding, and lyrics from the back of a condiment package; " leaving home ," an extended instrumental meditation on growth and family; and the title track, a happy ode to sitting still.
Andrew Rappaport engineered nearly all these songs in June 1992, on my old Tascam four-track cassette recorder. We had a great time.
outside
invocation · thank you note · company picnic · holy water ·
miso
· the potato waltz ·
as it must be
· freaks like us · interlude i
inside
interlude ii · fatherless child · my lord of rain · o kali · we are one · leaving home ·
counting the moon
· conclusion